Eat, drink and relax across the Fraser Coast with a wide range of food and wine experiences to take your tastebuds on a journey of discovery across our region.
There is much to relish on a relaxing escape to our food-lovers paradise including fresh produce, succulent seafood and tantalising tipples.
From the hinterland to the Great Sandy Strait, the Fraser Coast has a wide range of fresh produce, locally made food products and top of the range dining experiences.
Top tip: try the famous Hervey Bay scallops which are prized by seafood lovers worldwide for their superior appearance, texture and taste or bite into juicy Fraser Island prawns – a favourite of many Fraser Coast locals.
Restaurants and coffee shops are dotted through the Fraser Coast with many found along the Hervey Bay esplanade offering picture perfect views of the ocean.
And it that's still not enough – we also have a host of delicious foodie events to keep you going including the annual Relish Food and Wine Festival held in the Portside Precinct in Maryborough.
Bars, Restaurants, Cafes & Clubs
Filter by city
Filter by category
Treat the tastebuds at these foodie events
Relish Food & Wine Festival
A must on the food and wine calendar, every June, Relish Food and Wine Festival takes over the Portside Precinct in historic Maryborough. The festival features amazing local food and beverage stalls, great live music and a number of interactive events such as a 'Brews and Blues Cruise' and a Gin Joint held in the Bond Store.
Hervey Bay Seafood Festival
Enjoy a feast with the local seafood industry each August at Fishermen's Park in Urangan, Hervey Bay. This is the only seafood festival across Australia that is managed by the people who catch the goods first hand for you. You can enjoy the flavours of the sea with a range of dishes available from some of the region's best restaurants and eateries.
There's been a lot happening on the Fraser Coast lately. Back in October 2019, Hervey Bay was crowned the world's first Whale Heritage Site, Fraser Island was announced as one of the most beautiful places in Australia by Vogue Magazine and late last year our very own...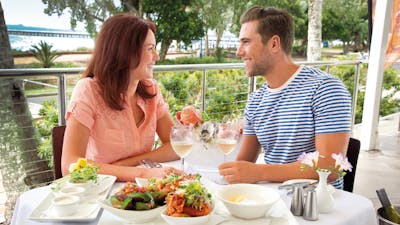 Naturally Delicious - Great Beach Drive
This journey offers travellers the opportunity to sample some amazing tastes as they explore the region. Start your Naturally Delicious Great Beach Drive from one...