Splashing Fun: Family Adventures in Fraser Coast's Water Wonderland
Splashing Fun: Family Adventures in Fraser Coast's Water Wonderland
The Fraser Coast, nestled on Queensland's stunning coastline, offers an idyllic playground for families seeking sun, sand, and water-based adventures. With its pristine beaches, crystal-clear waters, and an array of exciting activities, the Fraser Coast is a haven for unforgettable family experiences. Whether you're looking for water sports, marine encounters, or simply relaxing on the beach, this captivating destination has something for everyone. Dive in as we explore the top family-friendly adventures awaiting you on the Fraser Coast.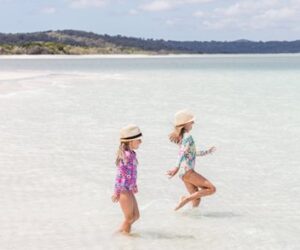 Beach Hopping Extravaganza:
Embark on a beach-hopping adventure along the Fraser Coast's breathtaking coastline. Begin at the world-renowned Hervey Bay, where you can soak up the sun and build sandcastles on the golden sands. Don't miss the chance to enjoy a refreshing dip in the calm waters, perfect for young swimmers. Head further north to the picturesque Burrum Coast, known for its tranquil ambiance and abundant birdlife.
Thrilling Water Sports: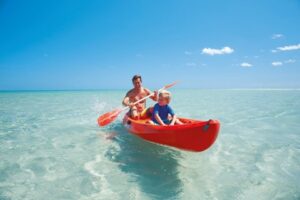 For families seeking a dose of adrenaline, the Fraser Coast offers an array of thrilling water sports. Strap on a life jacket and try your hand at jet skiing or kayaking along the coast. Stand-up paddleboarding is another popular option, providing a fun and active way to explore the calm waters and spot marine life beneath you. With reputable water sports providers available, you can easily find suitable options for all ages and skill levels.
Whale Watching Wonder:
The Fraser Coast is renowned as the whale watching capital of Australia, providing a once-in-a-lifetime opportunity to witness majestic humpback whales on their annual migration. Join a family-friendly whale watching tour from Hervey Bay, where knowledgeable guides will share fascinating insights into these magnificent creatures. Watch in awe as the whales breach, tail-slap, and play in the waters just meters away from your vessel. This awe-inspiring experience is sure to leave lasting memories for the whole family.
Marine Encounters: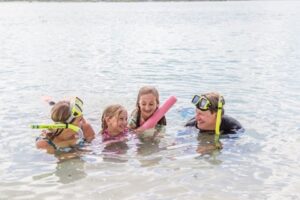 Delve into the underwater world of the Fraser Coast with exciting marine encounters. Take a guided snorkeling tour and discover vibrant coral reefs teeming with tropical fish, or opt for a scuba diving adventure for a more immersive experience. Hervey Bay is also famous for its close encounters with friendly dolphins. Join a dolphin cruise and witness these intelligent creatures leaping and frolicking in their natural habitat.
In conclusion, the Fraser Coast is a family adventure paradise, combining the allure of pristine beaches, thrilling water sports, and captivating marine encounters. From building sandcastles to snorkeling with colorful fish and witnessing majestic whales, this coastal gem offers an array of exciting activities for all ages. So pack your sunscreen, grab your swimsuits, and get ready for an unforgettable family adventure in the Fraser Coast's water wonderland.