Julian James Blues & BBQ Sunday Sesh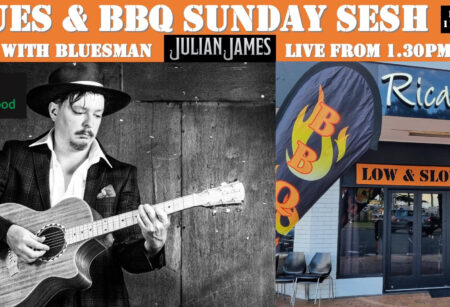 About this event
Yes indeed, we're blessed to have acclaimed Melbourne bluesman Julian James laying down the blues at our Low'n'Slow BBQ Sunday Sesh at Ricardo's Hervey Bay, on Sunday September 17th.
Julian James has been around Melbourne's live music scene since before he was allowed to drink in bars. The sound of his band 'Julian James and The Moonshine State' mixes a love of moonshine-drinking finger picking country with the southern swamp wail of a back porch fiddle. Julian has released three well-received albums to date, all of which he's road tested on frequent laps of our wide brown land.
From Melbourne's back alley bars to Australia's major Festivals (Gympie Muster, Echuca Winter Blues, Tamworth CMF) – Award winning Julian James is loved by folk and blues audiences all over Australia, with his whiskey drenched sound as much at home in 2021 as it would have been been blaring out of the wireless in 1921.
Chill out at our cruisy BLUES & BBQ SUNDAY SESH & enjoy the blues along with the amazing aromas, fabulous flavours and tantalising textures of low'n'slow BBQ cooked over local ironbark wood in our BSG Smokers offset BBQ pit "The Colonel".
Pitmaster's BBQ platters, 12 hour low'n'slow barbecued brisket, pork, chicken, seafood burgers, Surf'n'Turf Burgers, kids' sliders, craft beers, cocktails & more feature on the menu.
You can choose to dine inside the Restaurant or at our outside tables.
Take-aways are available too. Don't forget to order up your take-away Pitmaster's BBQ boxes in the afternoon to reheat at home for Sunday dinner!
Barbecue and the Blues…both born in the Deep South.
Sunday September 17th. 11.30am – 4.30pm.
Upcoming events
September 17 - @11.30am
September 25